You've finally made it to the other side. You received your divorce settlement. Your divorce is official, and it's time to start moving forward!
 After all of the emotions and the tears, you're still standing. The overwhelm of change throughout the divorce process didn't defeat you. Now all you are facing is your new life. The only problem is you can't see it quite yet…
Getting Stuck
It's not uncommon to get stuck here. I've even seen people revert to the single days of their youth. They act like as if they have no responsibilities or boundaries, and end up making bad decisions about money, jobs, and homes. You don' have to be this person. You don't need that kind of regret in your new life. Now is the time to heal and move forward—building something positive and meaningful from all that you've been through.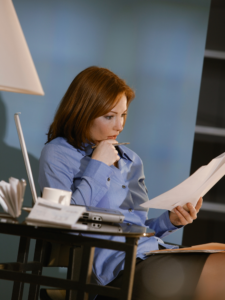 Knowing Your Divorce Settlement
The first step of creating your new life is to KNOW YOUR DIVORCE SETTLEMENT. After everything that's happened, it's natural for your brain to want to go on vacation. But what comes next is of critical importance. What does the divorce settlement award you? You need to know precisely. Too many people don't know. They just want the attorney fees to stop. For this reason, they don't call their attorney. But this call could make all the other fees paid worthwhile.
Read the final decree and MAKE SURE you understand everything that's in it. If you don't want to read it, reach out to someone who will – your attorney or a Certified Divorce Financial Analyst (CDFA) like me. Part of what I do is assist with post-divorce transitions like reviewing your decree, setting up accounts, and walking you through the transfer of any assets.
Qualified Domestic Relations Order (QDRO)
It is probably also at this time, you'll hear the phrase Qualified Domestic Relations Order. We call it a QDRO – pronounced like "Quadro". If the divorce settlement awards you part of your former spouse's company retirement account, you must complete this legal document and file it with the court. If you file too late or don't file at all, there is a chance you won't get the 401k or pension payments you're entitled to!
Find a Certified Financial Planner
Now that you've gone through the settlement and know what you have, you want to make sure it lasts. Enter the Certified Financial Planner. They can provide you with the professional help you need. Here's my best advice about how to go about finding one. Look for a CFP® or other advisor that is fee-only. Make sure you understand how you will pay them. A CFP® is a fiduciary—someone who puts your interest above their own. Believe it or not, not all financial advisors are fiduciaries. Some advisors only have to provide advice that is suitable which is a much lower bar. Finally, make sure you trust the individual.
A good advisor can help make your life a great deal easier. They can help you to identify your personal and financial goals and guide you as you make progress towards them—giving you a good start to your new life.